We Review The Latest Regular Show In Space SN08 EP30 – 'A Regular Epic Battle Finale Part 2'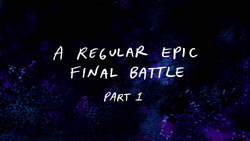 Anti-pops is fine and dandy after all of the traps. Pops wants to handle this like gentlemen even if Anti-Pops doesn't. Anti-Pops offers Pops an agreement in which if Pops knocks him down everything will stay "regular" and if he knocks Pops down the universe will be destroyed.
The pair begin their final battle wit Anti pops showing off his 24 pack. True to Regular Show form, the battle is anything but regular. Dropping a boat on Anti-pops it looks like Pops has won. But of course this isn't going to be that easy. Anti-Pops calls his goons to attack and the fight is back on. Streaming appears ready to take down everyone as Mordecai and Rigby run to help. Muscleman asks the guardian to help and she eventually concedes as she takes on streaming.
Mordecai and Rigby get their ships and begin shooting as Streaming sucks in his friends to never buffer again. HD DVD, Blu Ray, the baby ducks, Sureshot and his crew come to help. Following these guys come the magic baby's, death, party horse, and Mordecai and Rigby's favorite TV cops. The Baby Duck's take in everyone to become the ultimate Duck robot. Benson get stuck on the outside of the bot, angered by this.
The bot faces Streaming, using all of their combined powers. The battle seems to be going in the good guys favor as Pops knocks Anti Pops off. Anti Pops soon floats up in his full powered form. He wipes out many characters including Muscleman and Highfive ghost. Pops upset by this loss goes Super Saiyan as the beams from Anti Pops aim to wipe everyone out. Soon the Universe is wiped out leaving only white. Anti Pops slams Pops who charges forward in his massive punch. If these fists hit, the universe will reset.
Mordecai and Rigby are the last survivors and fly between the fists. Seems like something you wouldn't do, like crossing the beams. If it is like the past encounters clearly this clash will result in a reset. But in these rests prior Mordecai and Rigby clearly didn't jump fly between the fists. Excited to see the conclusion as I'm sure the end will really be where it all comes together. Who knows how this anything but regular show will end? All I know is I hope everything turns out right for our characters and I am sure they will get out of this alive, at least I hope.
The Good
This episode had many different characters come back to help take on Anti Pops and Streaming. We got to see a new version of the baby duck's mech which is awesome.