E3 Is Almost Here
E3 is right around the corner and I bet I'm not the only one excited to hear about a lot of new games. It's been a big year for gaming, and I think everyone is excited to hear about what new games are going to come out, or get updates on games already announced.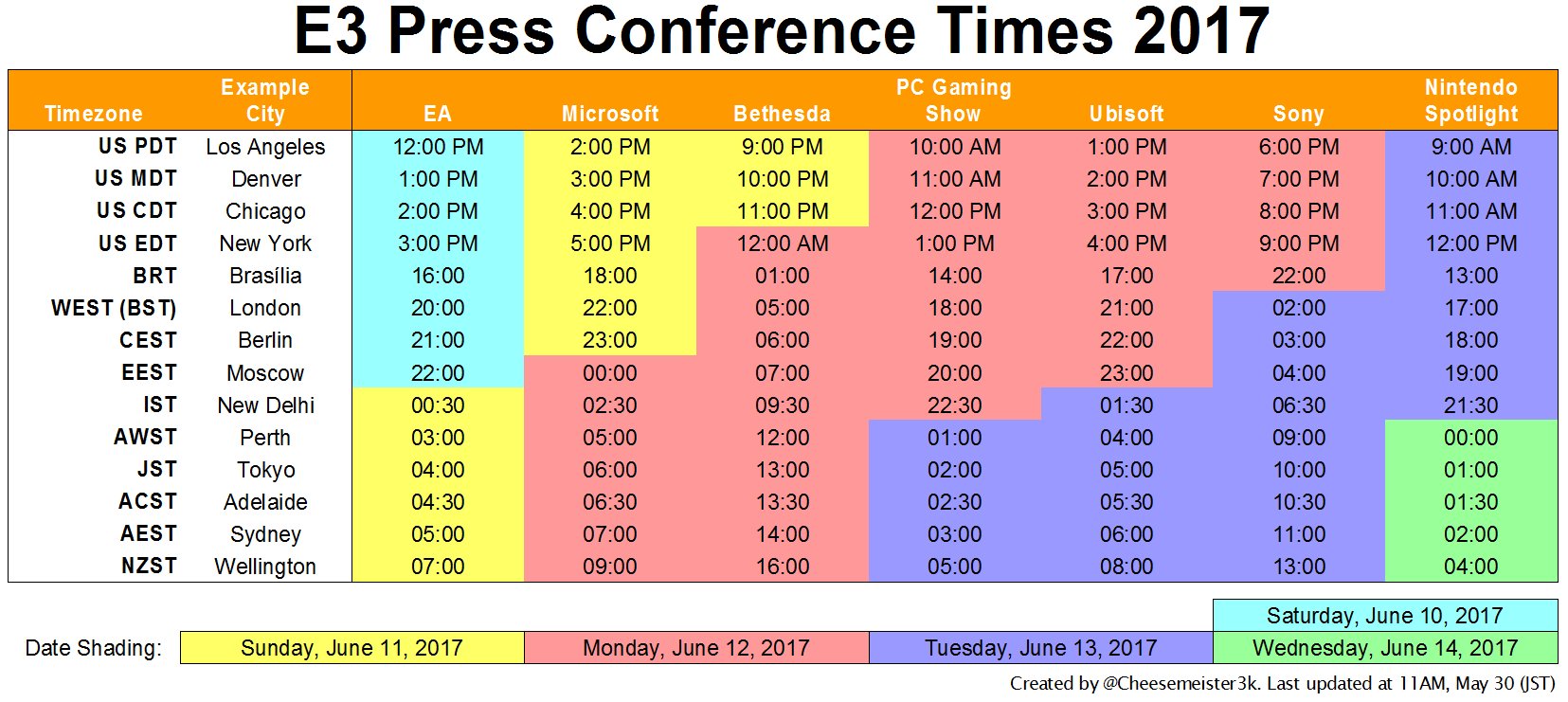 The show starts Saturday June 10th, with the EA (Electronic Arts) show. They're mostly known for Madden, and Fifa. If you're excited to hear about the newest sports game, or newest Need for Speed installment, then tune in. They may even announce Bioware's next IP.
Microsoft is presenting next. They're presenting Sunday afternoon (EST) instead on Monday morning this year. New news on the Scorpio may arrive, and any other Xbox exclusive games. Another big highlight of the night might be Crackdown 3. The show will be interesting to watch if you want to know about the newest improvements to Xbox consoles and what games will be excluded for that console for a while.
Bethesda presents next. The company has announced a few nice game at E3 in the past, and I wouldn't be surprised if we heard about some interesting games this year too. Elder Scrolls is a big IP they own. We could hear about a new Doom, Wolfenstein, or Evil Within game. Another thing that might be announced is some Dishonored 2 DLC. Bethesda has a lot of options.
Ubisoft starts at 4pm EST. The show is always one of the most interesting to watch. The show will hopefully talk about the next Assassin's Creed game, and Far Cry 5. Since they've delayed South Park: The Fractured But Whole enough times, I hope they talk about it a little bit too. They have a nice arrangements of games that could be announced or talked about. Now would be give time to give us a glimpse at those games. 
Sony is the one that most fans of Last of Us will probably be excited for. With the announcement of Last of Us 2 last year at the Sony Conference, I think a lot of fans are hoping to see a little more. Sony showed off Spider-man, Days Gone, and God of War last year, and has been pretty silent since. Uncharted: Lost Legacy is another one they could show more of, and if we're really lucky maybe even Death Stranding. Sony is doing a lot of cool projects, and if any of these interest you, then you need to tune into this one.
E3 ends with the Nintendo show. This show is usually pretty show, but kinda interesting if you like Nintendo products (or own one). Super Mario Odyssey is one of the bigger games they might talk about this year, and maybe Xenoblade 2. There might be a couple other Switch titles announced, but not much else is known about this show. This is usually one of the shorter shows at the conference.
If you want to watch the conference live, then you can watch it on Twitch at https://www.twitch.tv/twitch and for a full schedule (with time zone converter) @Cheesemeister3K and provided a nice little graph to look at: https://twitter.com/Cheesemeister3k/status/869378686297952256
We may not hear about every game we want to, but we will discover news games to be excited about. I'll be watching. If you're interested in the latest games, then you should too. It's always an interesting show. Sony last year had a live orchestra playing with the trailers. They really want to keep people interested. Each show is different, and sure to amaze. They do not disappoint. It starts next week, and everyone can watch it.